Holding Holly
Love and Football # 4.5
By: Julie Brannagh
Releasing December 2nd, 2014
Avon
Holly Reynolds has a secret. Make that two. The first involves upholding her grandmother's hobby answering Dear Santa letters from dozens of local school children. The second...well, he just came strolling in the door.
For the last two years, Holly has not been able to stop thinking about gorgeous Seattle Shark Derrick Collins. His on-field exploits induce nightmares in quarterbacks across the NFL, but she knows he has a heart of gold.
Derrick has never met a woman he wants to bring home to meet his family, mostly because he keeps picking the wrong ones-until he runs into sweet, shy Holly Reynolds. Different than anyone he's ever known, Derrick realizes she might just be everything he needs.
When he discovers her holiday letter writing, he is determined to play Santa too. And as the pair team up to bring joy to one little boy very much in need, they discover the most precious Christmas gift of all: love.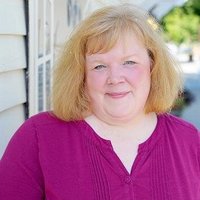 Julie Brannagh has been writing since she was old enough to hold a pencil. She lives in a small town near Seattle, where she once served as a city council member and owned a yarn shop. She shares her home with a wonderful husband, two uncivilized Maine Coons and a rambunctious chocolate Lab.
When she's not writing, she's reading, or armchair-quarterbacking her favorite NFL team from the comfort of the family room couch. Julie is a Golden Heart finalist and the author of contemporary sports romances.
She disconnected and shoved the phone back into her pocket. She wasn't getting any hours today, and the chances were good that the money she would have been paid for tonight's job wasn't happening without power, either. Derrick was still watching her and waiting for an answer. She glanced down at the table. She could dwell on her problems later. "It's not my secret to tell." It wasn't an answer, but it was the best she could come up with. He reached out one big hand and covered hers. "Then whose secret is it? I'd like to help. Maybe we could work together to find Michael and his family." He had just confirmed that he not only glanced at the letters, he'd read at least one of them.
The sinking feeling in her stomach intensified; Holly and her grandma's closely held secret wasn't a secret anymore. The timer she'd set on the stove went off.
Digital Set of LOVE & FOOTBALL Series Bks 1-4
a Rafflecopter giveaway